Suikoden: Woven Web of the Centuries is definitely one of the most underrated games ever released on PlayStation Portable (PSP). This is mostly due to the fact that this game was only ever officially released in Japanese in 2012.
Suikoden: Woven Web of the Centuries is also known as Gensō Suikoden: Tsumugareshi Hyakunen no Toki or 幻想水滸伝 紡がれし百年の時).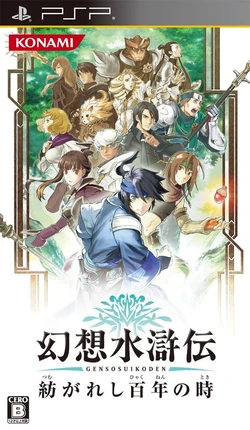 This awesome game could be played by Japanese fans. However, the mass majority of overseas fans who could not read Japanese are unable to play it. In fact, due to not having an English version, the game did not make it into stores out of Japan. Hence, it was unable to gain traction like its past titles that were released in English.
Come on, any JRPG fans had played Suikoden I & Suikoden II no matter what year they were born.
Fans Translation to the rescue
Counting close to 10 years after its official Japanese release. A team of translators and editors have provided the gaming community with a full English-patched version of the game in 2021! Now, everyone can finally play the game and appreciate its rich and exciting storytelling!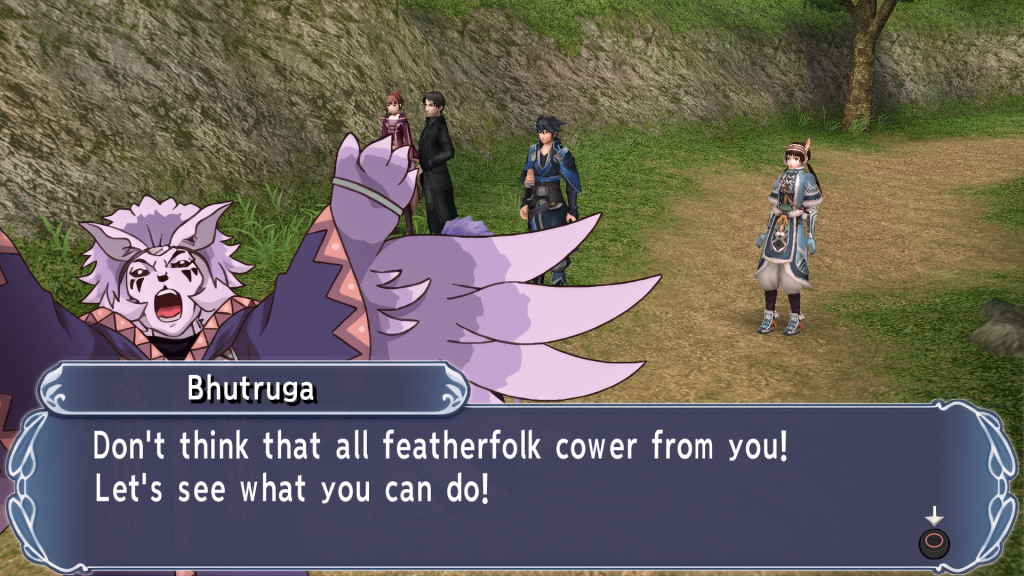 Look and Feel like a modern 2020s JRPG game
The team also provided HD Texture Pack for players who want to play on a big screen. This is very beneficial to those playing on PSP emulators on a computer!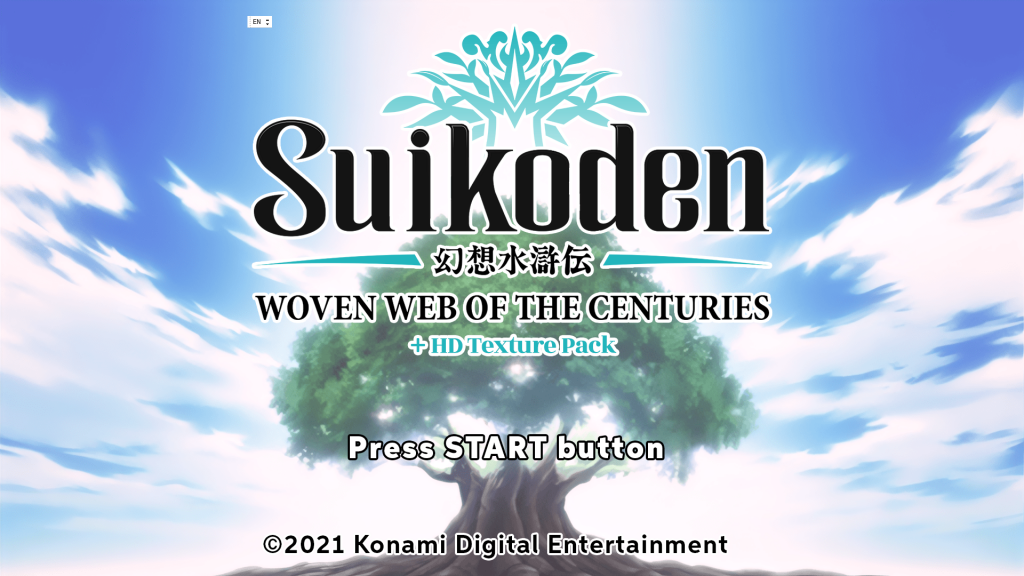 Suikoden: Woven Web of the Centuries already has voice-over in cut scenes and most of the key dialogues. Now paired with both high quality English translations and HD graphics, one could not tell that this was a 2012 game.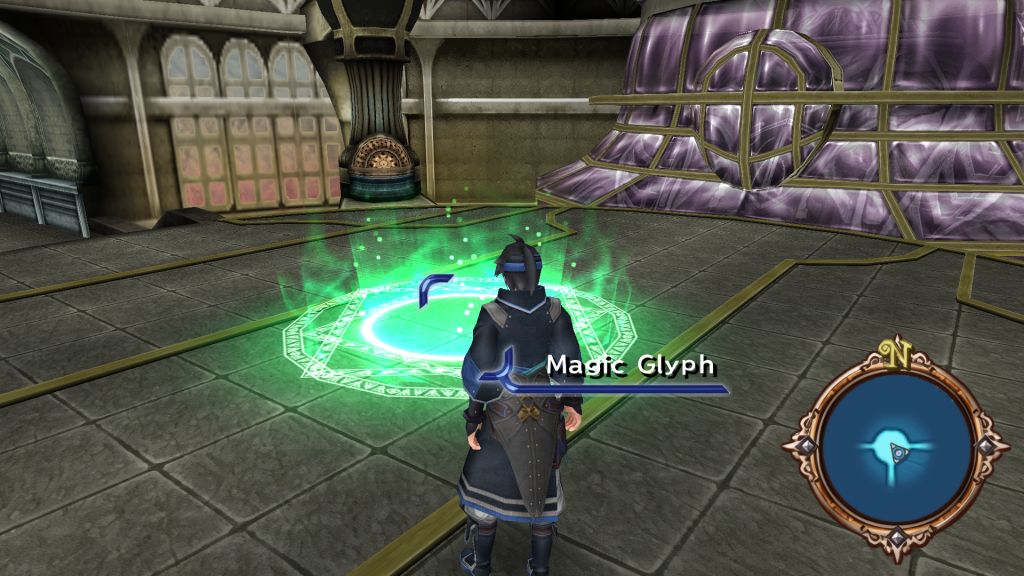 It is like a remastered version of a classic game or even a brand-new game in the Suikoden series! Any Suikoden fans would definitely recognise most of the trademark OST soundtracks! They were always reintroduced into any Suikoden games in the franchise.
108 Stars of Destiny
As usual, there are 108 stars of destiny like any other Suikoden titles in the franchise. However, there is a key difference between this game and any other Suikoden game.
In other Suikoden games, all 108 characters have a portrait and are actually alive at the point of completion. For example, in Suikoden II, if Ridley dies in battle, his son will replace him as a star of destiny. If Nanami died, you cannot get the true ending.
In Suikoden: Woven Web of the Centuries, it works differently as it totally resides in a separate universe or world. I will not talk about the world to avoid spoilers. However, it is known to all Suikoden fans that in Suikoden I took place as Scarlet Moon Empire. In Suikoden II, it took place in Dunan and Highlands. The map span across the north of Toran Republic (previously known as Scarlet Moon Empire). Out of the Suikoden II playable map would be the borders to Mathilda and also the borders of Grassland. Both would later be further explored in Suikoden III. You get my point.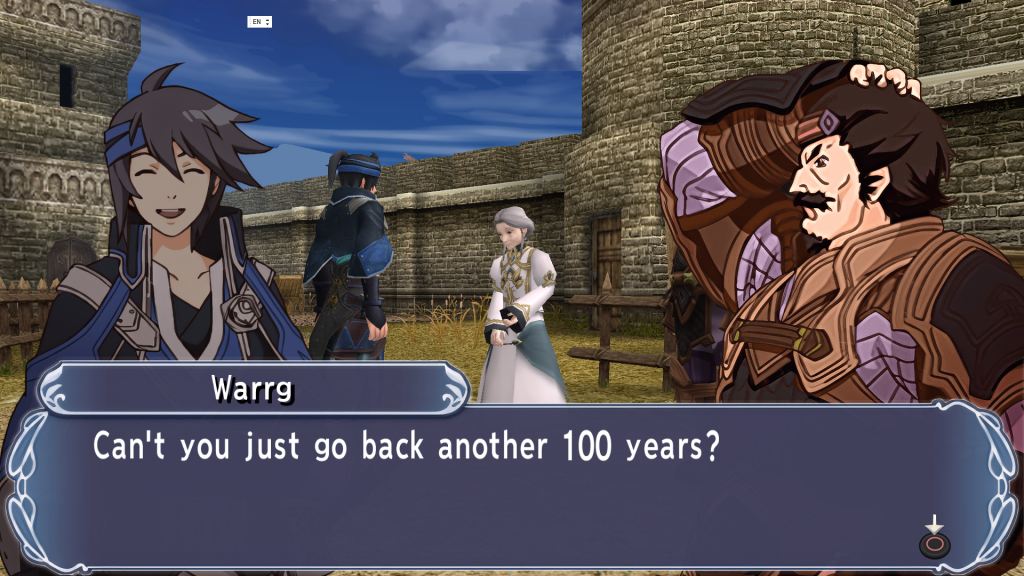 Back to the topic, in Suikoden: Woven Web of the Centuries, some stars of destiny do not have a portrait. This is because they did not physically appear in the game. However, their skills were passed on as one of the stars of destiny.
Headquarters is still fun
You cannot run around your headquarters like in the main Suikoden games and take part in things like cooking contests. However, apart from producing consumables for use in combat, there are many things you could do in your headquarters!
For example, you can work on the dungeons, which will basically roll a die (RNG) on whether you can get some of the materials from that dungeon. There is also hunting, whereby you take on a challenge to fight some monsters within a given time; should you complete the challenge, you could get some good rewards. Usually, one or two stars challenges would give you potch as an additional reward. For four or five stars challenges, they would usually give you good equipment, some may not be available to be purchased in any armourers.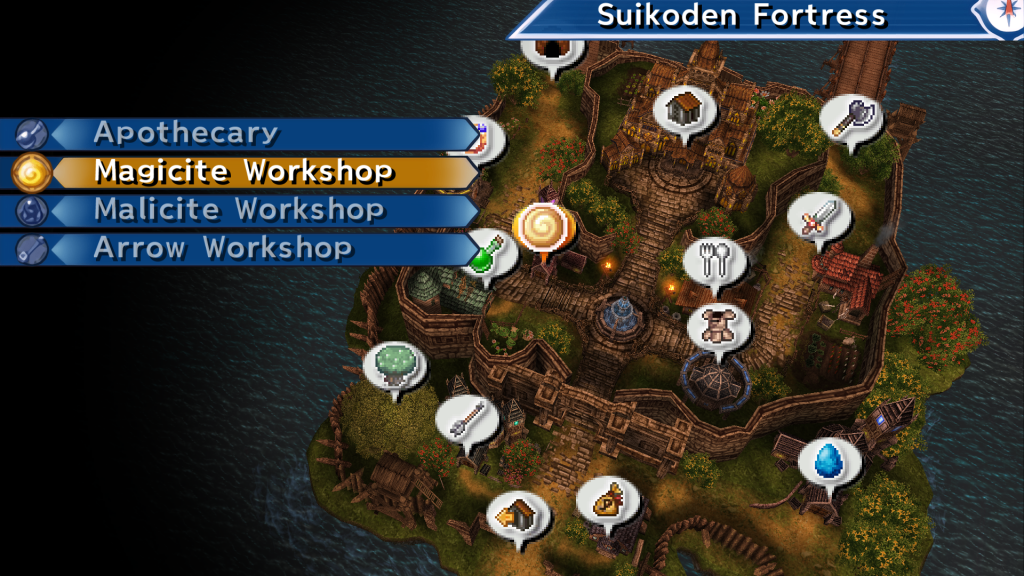 As shown above, it is a glimpse of some of the options you can explore in your headquarters. Forge and Production are something you should always revisit when you are back at your headquarters.
Fun fact, I always name my headquarters in Suikoden games as "Suikoden". I always felt that it is not a coincidence that the maximum number of characters allowed is always 8 characters! And no, I don't like the "Orange" company (Suikoden series' fans' joke).
Familiar combat system with a modern touch
Like most JRPG and Suikoden titles in the franchise, Suikoden: Woven Web of the Centuries also features turn-based combat. Each character can perform actions such as an attack or performing a unique action as part of their class. For example, a swordsman could use "Full Guard" which takes 0 damage for the turn. Other classes and profession have their own unique moves.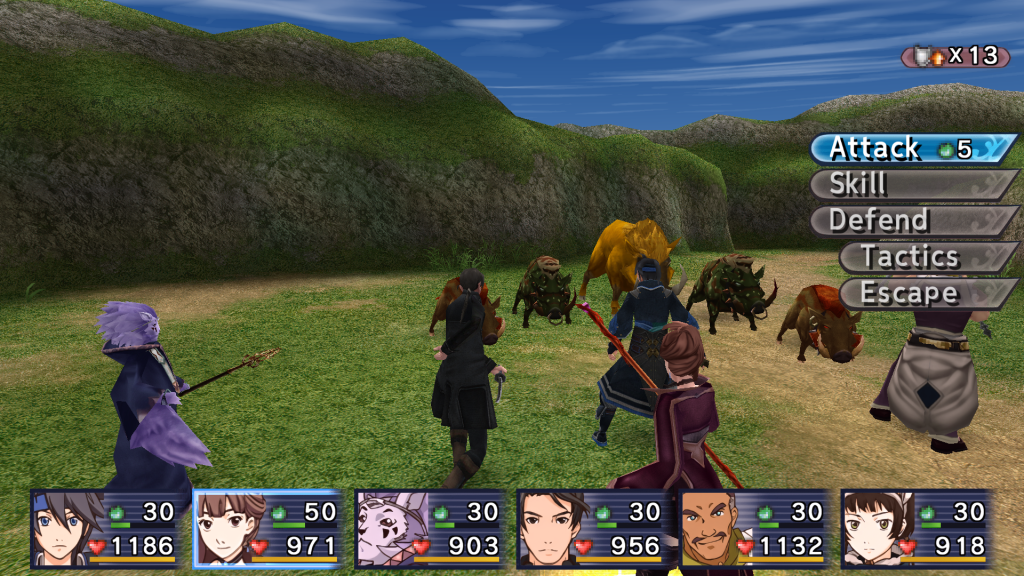 However, all of these actions would consume energy points that will be recovered during each turn of the combat. This forces players to think twice before using random moves that waste their energy.
Spellcasting uses consumables, players must think
Another point to note is that Suikoden: Woven Web of the Centuries does not have the usual "Rune" system. However, spells are cast by characters of related classes and professions. In the usual "Rune" system, the character's magic stats determine which level spell they have access to. It also determines how many times they can cast it. In comparison, the spellcasters in this game have access to any skills that they have learned. They can cast it as long as they have enough 'energy' and the required consumables, such as magicite and malicite.
The image below showed that my magician has 180 Blizzard Magicite in stock. Each time I cast Magus Sphere, it will consume 1 Blizzard Magicite and 20 energy points. If you look at the portrait below, my magician has 50 energy points now. This will increase every time it is your character's turn to act.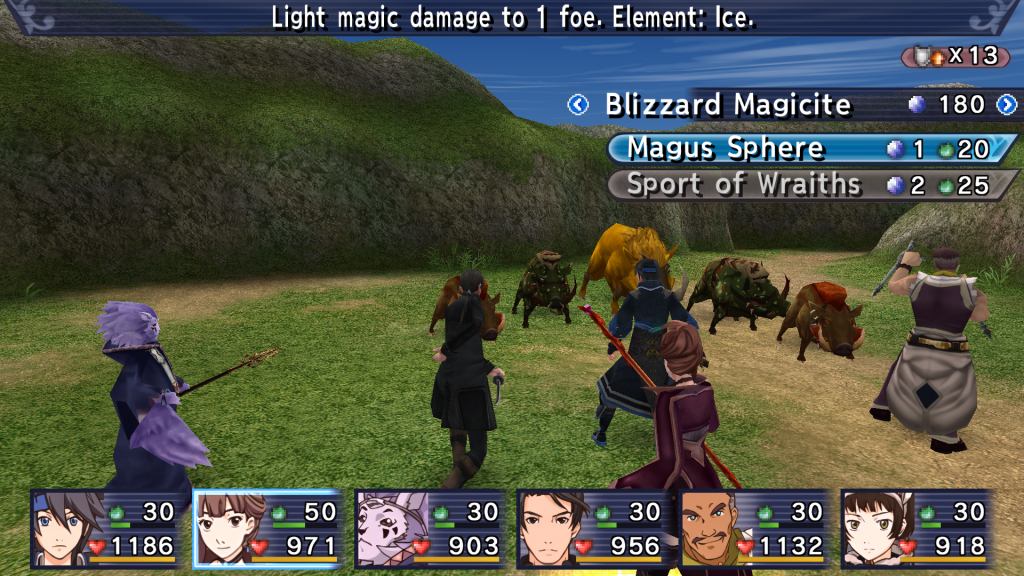 Producing consumables uses resources, and players must plan
Something I like about Suikoden: Woven Web of the Centuries is that it requires players to think and plan. For example, you are fighting some low-level monster that does not give you much potch (money/gold). Do you want to use your Area of Effect (AOE) spell on them? You can kill them in one turn and get double the amount of usual potch. What about the magicite you will consume in using this spell? It's not complicated but at least players get to think and plan a little instead of just button-smashing.
Herbalists (healers) also require medicine in order to perform their healing spells. However, they can be produced by your apothecary in your headquarter castle, I think by now, you get the idea!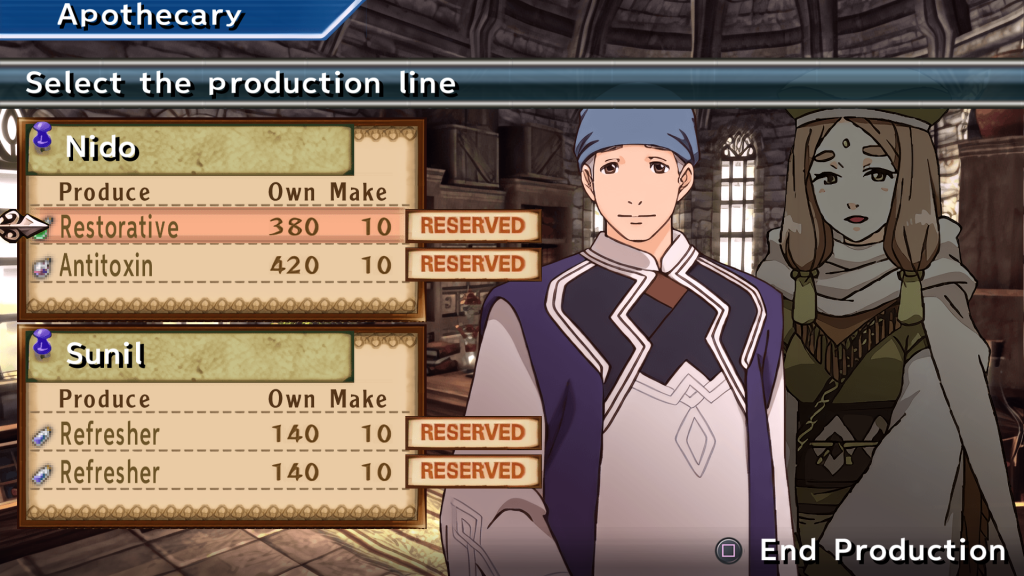 Lots of freedom in combat planning
The same also goes for archers, but it is a little more lenient. They can still shoot wood arrows by default and not consume any consumables. However, they can be supplied with other types of arrows, such as poison arrows or ice arrows. All these different arrows need to be produced by the fletchers at your headquarters. However, it is worthwhile as it makes your archers stronger and more versatile.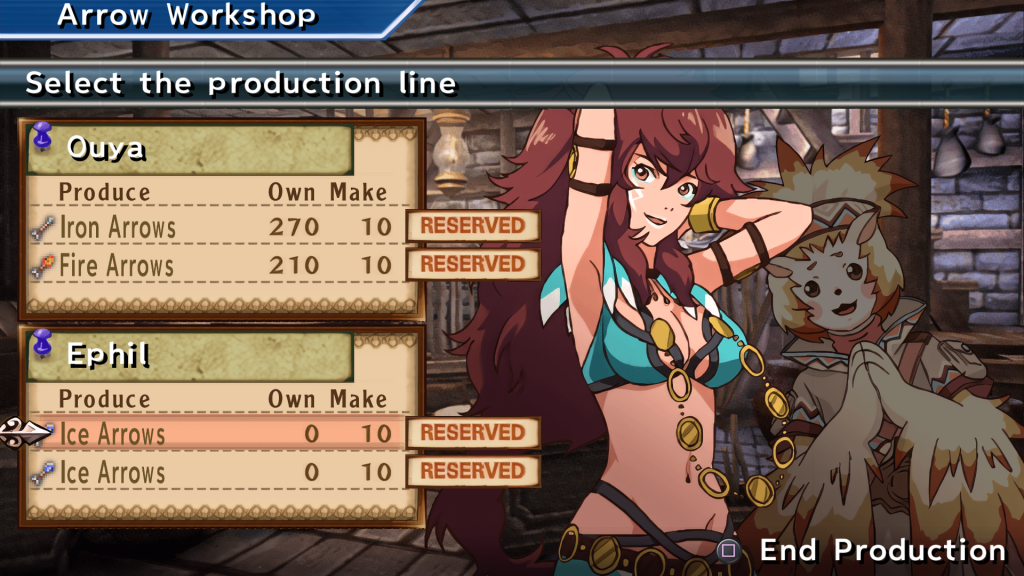 For example, your next destination is heading to an ice mountain. Let's talk about common sense. If you are going to Mount Everest, it is likely the monsters there are ice element based.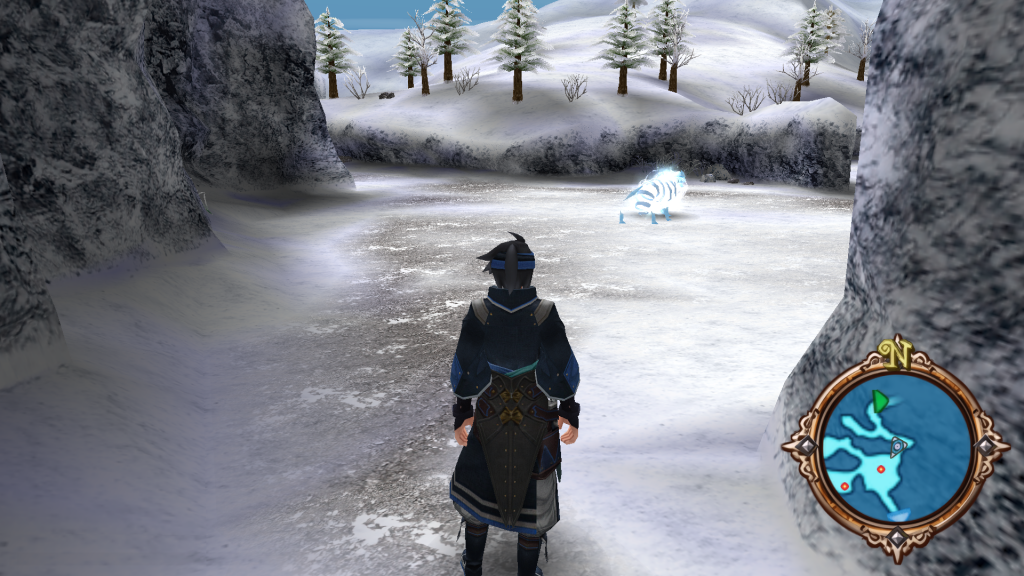 You can choose to make some fire arrows for your archer to use. This allows them to take advantage of elemental weakness which traditionally and usually only applies to magicians. In this game, archers could also take up this role.
Freedom of enhancement and change elements
Although the previous example only talks about an archer's arrows, there are actually many ways to achieve freedom of enhancement. All this freedom also led to your character being able to take advantage of elemental weaknesses in combat.
For example, getting your blacksmith for weapons and armour to provide you with the respective element enhancement. Apart from elements like fire, ice, and radiant (light), other enhancements are also available. For instance, they could add your speed (haste), guard (defence) and many more, explore them yourself!!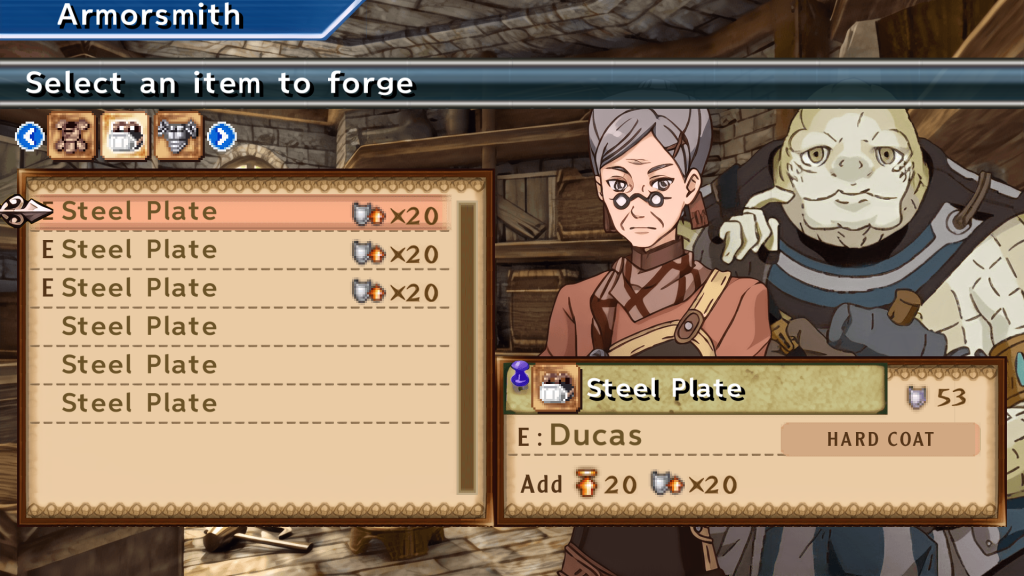 All this enhanced equipment can be used by your characters, remember to equip them accordingly. If you are unsure what enemies you might be facing, you can enhance a few armours or weapons. Just bring them along with you and change them as required. This is provided if you can afford the resources though.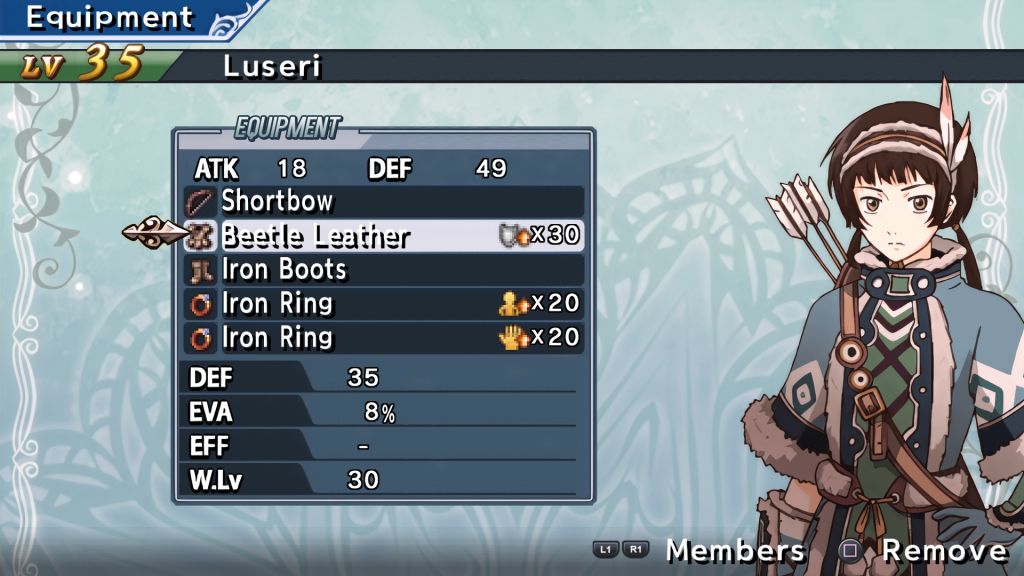 Friendship matters and affects dialogues
Something else which can be done in your headquarters is a build-up friendships among your companions. Apart from companions, special dialogues are also available. If you are observant throughout the game, you will notice the relationships between various characters. Putting them together in a meal, it causes them to have an "interesting" conversation. On this note, the translation team did a really good job in translating even the jokes in a hilarious way. Puns like "Moldie" and "Oldie", and many others really make me chuckle a lot during my playthrough.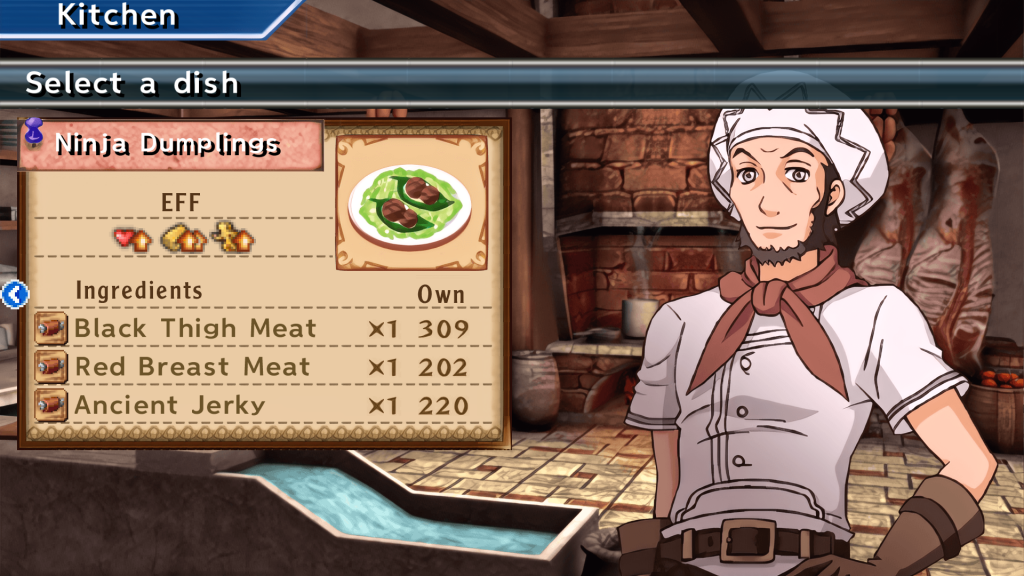 The Infinity. Can you change history?
The game features "The Infinity", whereby multiple worlds exist in parallel. Even if you change history, it does not mean the previous history has been removed. The storytelling is great and deep, it keeps one thinking. Can history be changed? What about the past before the change? Does it get erased?
The cause led to the effect, but the effect erased the cause.

Zephon
Lastly, this is the link to the fan translation page but please also do support the company and buy the original game.
Till I blog again! Meanwhile, if you have not read my past game reviews, do check them out here. For example, Crusader Kings III Game Review Part 1 and Crusader Kings III Game Review Part 2.
---
If you like the Suikoden series, you should also check out these posts: